Past Travel
Burgundy's Food & Wine:
A Bay Gourmet Adventure in France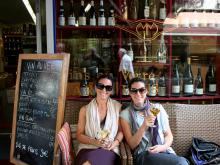 Sun, October 09, 2011
-
Fri, October 14, 2011
Burgundy sits in the middle of France, one of the country's richest and most fascinating regions and together we explore its cultural, historical, and gastronomic treasures! The region is famous for its wines - Puligny-Montrachet, Meursault, Pommard, Vosne-Romanée. Over the centuries the region's wealth created by these wines built magnificent châteaux, glorious cathedrals and strong free-spirited towns and villages that proudly maintain their traditions to this day. Beaune is the ancient capital of Burgundy and is our home base for the program.
Join
Bay Gourmet chair Cathy Curtis
and expert guide Colette Barbier, as we discover the stunning 15th-century Hospices de Beaune with its multi-colored tiled roof and priceless painting by Rogier van der Weyden. Learn the secrets of Dijon mustard and sample Kir. Explore the Dijon Market which takes place in the 19th?century Les Halles, built by Gustave Eiffel of Eiffel tower fame. A staggering array of local products is on display in one of the most vibrant markets in France. Visit the Gaugry Cheese facility and learn about Époisses, one of the most prominent cheeses of Burgundy. Throughout the trip meet with top wine producers; enjoy fabulous meals, and take in the beauty of the region. Our
guide Colette Barbier
is a native of Burgundy, and her family roots date back 200 years in the region. Colette teaches the History of Gastronomy and Wine at the University of Dijon, CIEF (International Center for French Studies).
Travel Cost:
$4,449 per person, based on double occupancy (and 12 person minimum)