Mobile Apps
The Commonwealth Club of California now has apps for Apple and Android smartphones! These apps are free and are designed to keep you connected to your Club.
APPLE DEVICES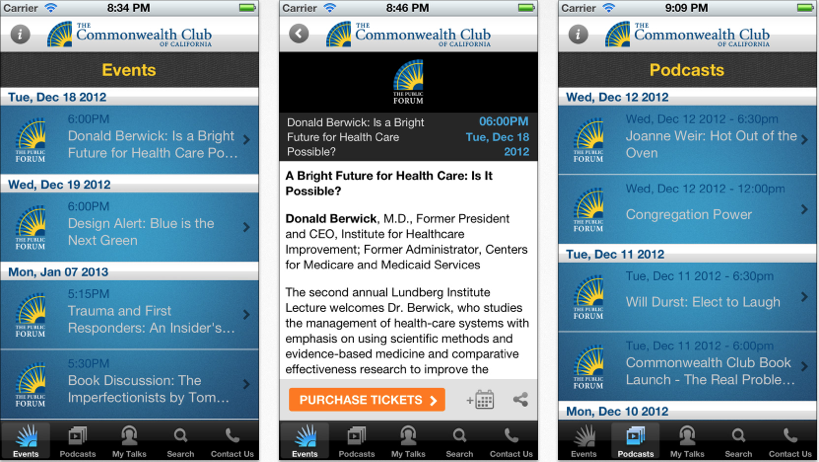 Have a schedule of upcoming Commonwealth Club events with you at all time, plus listen to the Club's popular podcasts right on your iPhone.
You can get the app by searching for Commonwealth Club in the iTunes App Store.
The iPhone app was developed by CityGovApp, Inc., which develops, deploys and maintains mobile applications for local governments. Mobile applications are an excellent tool to engage citizens, increase productivity and lower costs. Visit www.CityGovApp.com for further information.

ANDROID DEVICES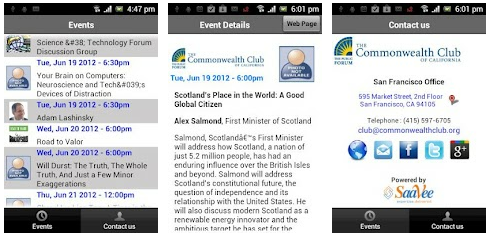 With the new Commonwealth Club app, you can see upcoming events in our handy scrolling calendar; click on an event to get more information and link to the full website to buy tickets; or click on your phone's bottom button for more information and you'll get an option to add the event directly to your Google calendar.
You can download the free app from the Google Play Marketplace. On your Android smartphone, just open the Play Store, select Apps, and search for "Commonwealth Club" to find the app and follow the instructions for dowloading it to your phone.
You can also order it through your desktop or laptop computer. Go to the Google Play Shop - here's the direct link. If you are logged into your Google account, you can order it through your browser and it will download to your smartphone the next time you turn that on.
The Android app was developed by SaaVee, a Fremont, California-based IT services company. They provide trusted technology solutions to clients regarding cloud computing, mobility and big data.