Past Winners
Many familiar names are included on our list of over 400 authors who have won the California Book Award since its inception. Some of the favorites include: John Steinbeck, Wallace Stegner, Diane Johnson, Ray Bradbury, Robert Hass, Kevin Starr, T.C. Boyle, Amy Tan, Jared Diamond, Czeslaw Milosz, C.S. Forester, Michael Chabon, William T. Vollman, Kay Ryan, Ishmael Reed, Khaled Hosseini, Adam Johnson, and many, many more.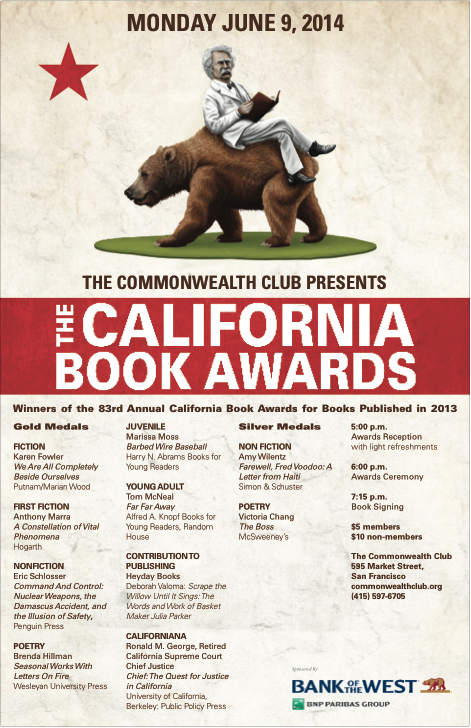 Winners of the 82nd annual California Book Awards
Sponsored by Bank of the West.
Gold Medals Awarded to:
FICTION
Adam Johnson: The Orphan Master's Son, Random House
FIRST FICTION
Jennifer duBois: A Partial History of Lost Causes, Random House
NONFICTION
Victoria Sweet: God's Hotel: A Doctor, A Hospital, and A Pilgrimage to the Heart of Medicine, Riverhead Books
POETRY
Etel Adnan: Sea and Fog, Nightboat Books
JUVENILE
Katherine Applegate: The One and Only Ivan, Harper Collins
YOUNG ADULT
Morgan Matson: Second Chance Summer, Simon & Schuster Books for Young Readers
CONTRIBUTION TO PUBLISHING
Ken and Melanie Light: Valley of Shadows and Dreams, Heyday Press
CALIFORNIANA
John Laslett: Sunshine Was Never Enough, University of California Press
Silver Medals Awarded to:
NONFICTION
Anne-Marie O'Connor: The Lady in Gold: The Extraordinary Tale of Gustav Klimt's Masterpiece, Portrait of Adele Bloch-Bauer, Alfred A. Knopf
FIRST FICTION
Mariah K. Young: Masha'allah and Other Stories, Heyday Press
YOUNG ADULT
Marissa Moss: A Soldier's Secret: The Incredible True Story of Sarah Edmonds, a Civil War Hero, Amulet Books