Special Events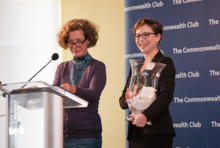 In addition to showcasing hundreds of speakers each year, The Commonwealth Club hosts many unique events, including themed speaker series, conferences, benefits and awards ceremonies.
Upcoming events
Anniversary and Annual Distinguished Citizen Award Dinner
Each year, The Commonwealth Club hosts its largest fundraiser in recognition of its birthday and honoring distinguished Bay Area citizens. Learn more!
California Book Awards
Since 1931, the California Book Awards have honored the exceptional literary merit of California writers and publishers. Each year a select jury considers hundreds of books in search of the very best in literary achievement. Eligible books must be written while the author was resident in California, and must be published during the year under consideration. Awards are presented to books in the categories of Fiction, Nonfiction, First Work of Fiction, Poetry, Californiana, Notable Contribution to Publishing and Young Adult.
Past events have included
Club Centennial
February 3, 2003, marked The Club's 100th anniversary. In honor of this historical event, The Club hosted a day-long celebration which included a dedication ceremony and open house at our Market Street headquarters in San Francisco.
Centennial Conference
On February 27 and 28 of 2003, The Club hosted a conference, "Renewing American Democratic Civil Society," to examine problems and solutions in six areas challenging our society: the media, the political system, leadership in all sectors, corporate ethics, citizen civic involvement and public understanding of foreign policy.
Centennial Gala
The Club celebrated its 100th birthday with a Centennial Gala on October 21, 2003. In a black-tie event that drew more than 800 guests, The Club honored its past presidents - men and women who have led the organization through a century of enlightened civic discourse. News anchor and bestselling author Tom Brokaw delivered the keynote address, taking stock of the challenges facing the U.S. and the world. The evening also included dinner, dancing and a silent auction.