Member and Guest Code of Conduct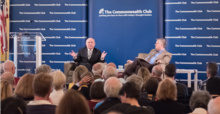 Mission
The Commonwealth Club is a public forum where speakers, moderators, and attendees may express a variety of opinions and views. As such, we ask that our attendees respect this unique forum for civilized discussion. People who willfully disrupt an event or speaker will be asked to leave.
Safety
The Commonwealth Club is committed to providing a safe and welcoming environment for all members and guest. To promote safety and comfort for all, we ask individuals to act appropriately at all times when they are at the Commonwealth Club facilities or participating in Commonwealth Club programs.
Respect
Club staff members and volunteers are eager to be of assistance to all of our attendees. Members and guests should not hesitate to notify a staff member or volunteer if any assistance is needed.
We expect persons attending Commonwealth Club events and utilizing our facilities in any way to behave in a mature and responsible way, and to respect the rights and dignity of others. We do not permit language or any action that may hurt or frighten another person, including members, guests, speakers, staff or volunteers, or that falls below a generally accepted standard of conduct. Members and guests must treat the Club, its staff, volunteers and other guests with courtesy and respect at all times just as the Club's staff and volunteers treat the members and guests with respect.
Identification and Ticketing
In order to be able to carry out these policies, we ask that members and guests identify themselves to staff when asked, and be able to produce identification upon request. Members and guests are required to check-in at the front desk and get a ticket for each event they would like to attend.
Membership
The Commonwealth Club reserves the right to deny access or membership to any person for any reason. Suspension or termination of Club membership privileges may result from a violation of the Club Member and Guest Code of Conduct. Membership may be terminated by the Management for violation of any rules or regulations of the Club or for conduct deemed by the Management to be detrimental to the welfare, good order, safety or character of the Club or its members.