Upcoming Events: Climate One
Mon 12/12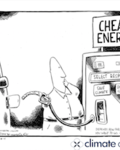 Is Climate Denial Destroying Our Planet?
Date:
Mon, December 12, 2016
Time:
12:00 PM
It's undenable — or is it?
View More
Renee Lertzman, Climate Engagement Strategist, Author; Speaker
Michael Mann, Distinguished Professor of Meteorology, Penn State University; Co-author, The Madhouse Effect
Cristine Russell, Freelance Science Journalist
Tom Toles, Political Cartoonist; Co-author, The Madhouse Effect
The majority of Americans agree climate disruption is a major concern. The Paris Climate Agreement has been ratified by 61 countries and counting, which so far represents 47.81 percent of the world's emissions. So we all agree, climate change is the biggest problem humankind has ever faced? Not so fast.
Here in the United States, denial and confusion about the science is rampant, and we may be the only developed nation where it is written into a major political party's platform. Climate scientist Michael Mann and Pulitzer Prize-winning cartoonist Tom Toles take a satirical look at how this lack of consensus came to be. Cristine Russell is a veteran science journalist with deep knowledge about conveying complex scientific issues to a broad public. How deep does climate doubt run, and how can communication help us move on to solutions?
Join us for a fun and informative look at manufactured doubt and genuine skepticism.
Thu 12/15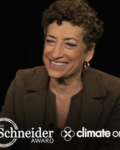 Dr. Naomi Oreskes: The 2016 Stephen Schneider Award
Date:
Thu, December 15, 2016
Time:
6:30 PM
6th annual Stephen Schneider Award winner
View More
Naomi Oreskes, Ph.D., Professor of the History of Science and Affiliated Professor of Earth and Planetary Sciences, Harvard University
Steven Chu, Ph.D., Professor of Physics and Molecular & Cellular Physiology, Stanford
Climate One presents Naomi Oreskes the 6th Annual Stephen Schneider Award for Outstanding Climate Science Communication. According to Schneider Award juror Ben Santer, "Her 2004 Science paper helped to quantify, for the first time, the broad scientific consensus on climate change. Her recent research unmasked the forces behind denial of human effects on climate and improved our chances of having a responsible, science-based discussion of climate change solutions."
Dr. Oreskes' work first became well known when her paper "The Scientific Consensus on Climate Change" was featured in Al Gore's seminal documentary An Inconvenient Truth. Later, she co-authored the influential book Merchants of Doubt, which explores the public-relations tactics used by the tobacco industry to obfuscate the health risks of smoking, and draws a parallel to the similar tactics used by the oil industry to forestall government action on climate change. This widely read book inspired a successful documentary of the same name.
The award was established in honor of Stephen Henry Schneider, one of the founding fathers of climatology, who died suddenly in 2010. Internationally recognized for research, policy analysis and outreach in climate change, Dr. Schneider focused on climate change science, integrated assessment of ecological and economic impacts of human-induced climate change, and identifying viable climate policies and technological solutions. He also consulted with federal agencies and/or White House staff in the Nixon, Carter, Reagan, George H.W. Bush, Clinton and George W. Bush administrations. His work is chronicled at climatechange.net.
This special evening will include a conversation with Dr. Oreskes and other special guests in addition to a reception.
Mon 2/6
Can Clean Tech Clean Up Our Future?
Date:
Mon, February 06, 2017
Time:
6:30 PM
Kicking off Clean-Tech Week 2016
View More
Holmes Hummel, Founder, Clean Energy Works
Andrew Chung, Founder and Managing Partner, 1955 Capital
Danny Kennedy, Managing Director, California Clean Energy Fund
With stock market values at near-record highs, again, how is the clean tech sector doing? One index of solar stocks is down 50 percent from a year ago and the industry was stung by the high-profile flame-out of SunEdison. Overall, however, the clean energy industry is growing and creating jobs. One recent report found the number of people who work in renewable energy grew 5 percent to 8 million people worldwide.
What technologies are most promising for making money and getting a job? What areas offer the biggest prospect for game-changing breakthroughs? Join a conversation with three battle-hardened experts about what's real and what's hype in today's clean power landscape.
Climate One is excited to be working with CleanTech Open for this program, making it the kick-off event for Clean-Tech Week 2016. We will be hosting a post-event reception for extended networking and mingling.