Upcoming Events: Good Lit
Tue 6/21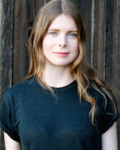 An Evening with Emma Cline, Author of "The Girls"
Date:
Tue, June 21, 2016
Time:
6:30 PM
View More
Emma Cline, Author, The Girls
Claire Bidwell Smith, Grief Therapist; Mother; Author, The Rules of Inheritance and After This: When Life is Over, Where Do We Go?—Moderator
This is a Good Lit event, underwritten by the Bernard Osher Foundation.
The Girls, the forthcoming, highly anticipated debut novel by Emma Cline, tells the story of Evie, a young woman who gets drawn into the mysterious world of a gang of girls and quickly finds herself immersed in their world and in over her head.
Emma's writing has been praised by everyone from Lena Dunham to Mark Haddon for her deeply insightful observations about girls and the women they become. Emma rose to prominence when she signed a three book deal in 2014, at the age of 25.
Join INFORUM at The Commonwealth Club of California for a riveting evening with Emma.