Upcoming Events: Good Lit
Wed 8/19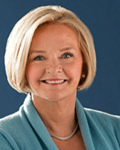 Senator Claire McCaskill
Date:
Wed, August 19, 2015
Time:
12:00 PM
Discussing her new memoir
View More
Claire McCaskill, United States Senator (D-MO); Author, Plenty Ladylike: A Memoir
In conversation with Dick Costolo, Former CEO, Twitter
This program is part of the Good Lit series underwritten by the Bernard Osher Foundation
The female senator from Missouri shares her inspiring story of embracing her ambition, surviving sexist slings, losing a husband and making a family, outsmarting her enemies—and finding joy along the way. McCaskill grew up in a political family, but not at a time that welcomed women with big plans. In her candid, lively, and forthright memoir, Senator McCaskill describes her uphill battle to become who she is today, from her failed first marriage to a Kansas City car dealer—the father of her three children—to her current relationship with a Missouri businessman, who she describes as "a life partner."
In 2006, McCaskill became the first woman elected to the U.S. Senate from Missouri, winning the seat once held by Harry Truman. As a senator, McCaskill has earned a reputation as a plain-spoken, independent voice for Missouri's families and businesses—willing to buck her own party to do what she thinks is right, and fighting to expand opportunities for Missouri's kids and grandkids.
Wed 10/28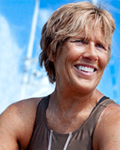 Diana Nyad: Never Give Up
Date:
Wed, October 28, 2015
Time:
12:00 PM
View More
Diana Nyad, Long Distance Swimmer; Author, Find a Way; Twitter @diananyad
Alison van Diggelen, Host, "Fresh Dialogues"; Contributor, BBC – Moderator
Good Lit event underwritten by the Bernard Osher Foundation
Never, ever give up. You're never too old to chase your dreams. It takes a team. That became Nyad's mantra after four failed attempts to swim from Cuba to Florida. Nayd finally accomplished her life-long dream in 2013, at the age of 64, welcomed by hundreds of people lining the beach at her destination in Key West.
How can repeated failures contribute to success? Nyad shares some of the important physical, spiritual, emotional and psychological lessons she learned when facing her fears and striving to live life with no regrets. Hear more about her inspiring story and record-breaking 110-mile swim.