Upcoming Events: Food Lit
Thu 12/3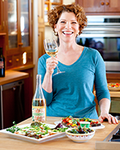 Chef Joanne Weir in Conversation with Chef Gary Danko
Date:
Thu, December 03, 2015
Time:
6:30 PM
View More
Joanne Weir, Chef and Owner, Copita Tequileria y Comida; Host, "Joanne Weir's Cooking Confidence"; James Beard Award Winner for Best Cookbook, 2005; Author, Kitchen Gypsy: Recipes and Stories from a Lifelong Romance with Food
In conversation with Gary Danko, Chef and Principal, Restaurant Gary Danko; James Beard Award Winner for Best Chef-California, 1995 and Best New Restaurant, 2000
This program is sponsored by Wells Fargo and is part of the Good Lit Series underwritten by the Bernard Osher Foundation.
Chef, cooking instructor, and television host Joanne Weir has inspired legions of home cooks across the globe with her California-Mediterranean cuisine. In Kitchen Gypsy, the James Beard Award-winning author offers the recipes and lessons that have shaped her culinary career, including the 140-year-old lighting cake recipe handed down from her great-grandmother. The author of more than 20 cookbooks and the host of two popular PBS series, Chef Weir is the recipient of numerous awards, including the very first IACP Julia Child Cooking Teacher Award of Excellence and the 2005 James Beard Best Cookbook award for Weir Cooking in the City.
Join these two powerhouse chefs as Weir takes a trip down culinary memory lane, sharing stories from her days cooking with Alice Waters at Chez Panisse, traveling and teaching throughout Europe and becoming the California chef she is today.

Tue 1/26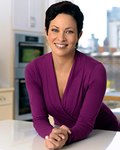 Ellie Krieger: Fabulous Healthy Meals
Date:
Tue, January 26, 2016
Time:
6:30 PM
The secret of do-ahead meals
View More
Ellie Krieger, Author, You Have It Made: Delicious, Healthy, Do-Ahead Meals; Twitter @Ellie_Krieger
This event is part of our Food lit series, underwritten by the Bernard Osher Foundation
Ellie Krieger, New York Times best-selling and award-winning author, has written a cookbook devoted to the kind of recipes that her fans have been waiting for—"make-ahead meals." For those who are always short on time when it comes to cooking, her recipes—which include breakfast bakes, soups, salads, casseroles, and more—can all be prepared ahead of time, making putting food on the table that much easier.