Upcoming Events: Food Lit
Wed 10/19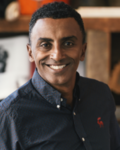 Marcus Samuelsson in Conversation with Chris Cosentino
Date:
Wed, October 19, 2016
Time:
6:30 PM
Kitchen adventures from Ethiopia to Sweden to Harlem
View More
Marcus Samuelsson, Chef; Author, The Red Rooster Cookbook: The Story of Food and Hustle in Harlem; Twitter: @MarcusCooks
In conversation with Chef Chris Cosentino
This program is part of our Food Lit series, underwritten by the Bernard Osher Foundation.
When Chef Samuelsson opened Red Rooster in Harlem, he envisioned more than just a restaurant. He wanted to create a melting pot that would highlight Harlem's vibrant multicultural history with food, art and music.
A James Beard award-winner, Samuelsson reflects on his journey from Ethiopia to Sweden to Harlem, and all the kitchen adventures he has encountered along the way.
Wed 11/2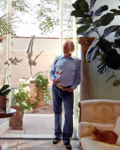 Chef Jeremiah Tower: How to Behave in the Modern World and Why Bother?
Date:
Wed, November 02, 2016
Time:
6:30 PM
An Elements of Style for the table
View More
Jeremiah Tower, Chef; Author, Table Manners: How to Behave in the Modern World and Why Bother; Twitter @jeremiahtower
In conversation with Amanda Haas, Culinary Director, Williams-Sonoma
Jeremiah Tower was a founding chef in the 1970s at Alice Waters' Chez Panisse restaurant and is widely credited as one of the creators of both New American Cuisine and California Cuisine. In 1984, Tower opened his own restaurant, Stars, in San Francisco. It was an overnight sensation and fostered the careers of numerous American chefs, including Mark Franz, Mario Batali, Tim Grable, Emily Luchetti and Jerry Traunfeld. The restaurant was among the top-grossing restaurants in the United States for close to a decade. Tower went on to win a James Beard Award as the best chef in America, hosted a PBS Series and opened restaurants in Singapore and Hong Kong. He holds a degree in architecture from Harvard.
Come hear his both witty and serious thoughts on manners in 2016—at the dinner party, the bar or in your own home. Tower has advice on everything: food allergies, RSVPs, iPhones, running late, thank-yous, restaurant etiquette, even what to do when you are served something disgusting.