Upcoming Events: LGBT
Tue 11/17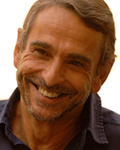 What Are Our Brains For? Cognitive Enhancement, Artificial Intelligence and Human Nature
Date:
Tue, November 17, 2015
Time:
6:00 PM
With professor John Harris
View More
John Harris D.Phil., Lord Alliance Professor of Bioethics and Director, Institute for Science, Ethics and Innovation, and Director, Wellcome Strategic Programme in the Human Body, its Scope, Limits and Future, University of Manchester
Astronomer Martin Rees has observed that there might be scientific facts that will never be discovered by beings with brains that have evolved in the way that human brains have so far developed, and scientific theories we are incapable of postulating. Related ethical limits might arise from our organic embodied nature and from the essential differences between human and artificial intelligence. More significant still, as Steven Hawking and Elon Musk have suggested, AI could pose problems that our brains are not adapted to anticipate. Join us as Harris examines the ethical and conceptual limits to human beings and human nature.