Upcoming Events: Arts
Mon 8/31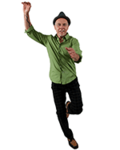 Body Music: An Interactive Lecture and Demonstration by Keith Terry
Date:
Mon, August 31, 2015
Time:
6:00 PM
View More
Keith Terry, Percussionist; Rhythm Dancer; Educator
This program is part of the 2015 Platforum series Music Matters, sponsored by Ernst & Young and the John and Marcia Goldman Foundation.
The oldest musical instrument in the world is the human body, on which any surface can be used for rhythmic possibilities. Terry has mastered the art of using just his body to create a variety of sounds and rhythms. Clapping his hands, stamping his feet, slapping his chest and popping his cheeks are just a few ways Terry plays his body as an instrument and creates "body music."
Body music, also known as body percussion and body drumming, is the oldest type of music on this planet. Traditional body music around the world ranges from African-American hambone and Flamenco Palmas from Spain, to Sumatran Saman and Ethiopian Armpit music. However, since 1978, Terry has developed a contemporary style of body music based on his training as a jazz drummer, as well as his years of intensive study and collaboration with world rhythmic systems.
Experience Terry's electric performance, which is both music and dance, that inspires audiences of all ages to join in on the fun.