Upcoming Events: Arts
Fri 8/29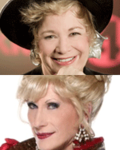 Hollywood and the LGBT Journey
Date:
Fri, August 29, 2014
Time:
12:00 PM
San Francisco media personalities discuss Hollywood.
View More
Donna Sachet, Media Personality; Actor; Community Activist
Jan Wahl, Film Critic, KRON 4
Donna Sachet has been a San Francisco performer and icon for decades, from being elected Empress of San Francisco to serving as Grand Marshal for the SF Pride parade. In 2009, Sachet became the first drag performer to sing the national anthem at a Major League Baseball game. Donna Sachet and film critic Jan Wahl "dish-cuss" the LGBT journey in Hollywood, past and present.