Upcoming Events: East Bay
Tue 5/12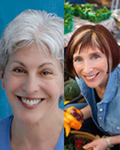 An Evening of Culinary Delight with Rebecca Katz & Mollie Katzen
Date:
Tue, May 12, 2015
Time:
6:30 PM
Science-based culinary delight!
View More
Rebecca Katz, Chef; Educator; Author, The Healthy Mind Cookbook and The Longevity Kitchen
In conversation with Mollie Katzen, Author, The Heart of the Plate: Vegetarian Recipes for a New Generation and the Moosewood Cookbook; Inductee, James Beard Cookbook Hall of Fame
A Food Lit event, underwritten by the Bernard Osher Foundation
Healthy eating tends to focus on keeping our bodies physically fit, but what about improving the health of our minds? In The Healthy Mind Cookbook, Rebecca Katz takes cutting-edge brain research on improving cognition, memory and mood and applies it directly to the plate through recipes like cozy lentil soup with delicata squash and chocolate cherry walnut truffles. A nationally recognized culinary translator and nutrition expert, Rebecca Katz's previous cookbooks include One Bite at a Time, the award-winning The Cancer-Fighting Kitchen and The Longevity Kitchen.
Mollie Katzen is listed by The New York Times as one of the best-selling cookbook authors of all time and is a James Beard Cookbook Hall of Fame inductee. The author of the iconic Moosewood Cookbook, Katzen is largely credited with having brought vegetarian cuisine into the mainstream.
Join Katz and Katzen for a conversation on science-based culinary delight and promoting happier, healthier minds through food.
Wed 6/10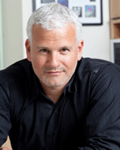 Video Games and Neuroscience: A Vision of the Future of Medicine and Education
Date:
Wed, June 10, 2015
Time:
6:30 PM
View More
Adam Gazzaley, M.D., Ph.D., Founding Director, Neuroscience Imaging Center and Associate Professor in Neurology, Physiology and Psychiatry, UCSF
Brain training games offered by companies like Lumosity and Fit Brains are rapidly gaining popularity, but how do we know if we're truly able to keep our brains healthy? At the University of California, San Francisco, Dr. Adam Gazzaley and his team focus on furthering our understanding of aging, neurological disease and the ways in which we can harness brain plasticity and improve cognitive function. Come hear the latest in neuroscience as Gazzaley explores how video games can train our brains, fend off mental decline and reduce our reliance on medication to treat neurological and psychiatric conditions.