Upcoming Events: East Bay
Tue 12/9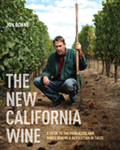 Tasting the New California Wines with Jon Bonné
Date:
Tue, December 09, 2014
Time:
6:30 PM
Young winemakers are changing the face of California viticulture.
View More
Jon Bonné, Wine Editor, San Francisco Chronicle; Author, The New California Wine: A Guide to the Producers and Wines Behind a Revolution in Taste
In The New California Wine, James Beard Award-winning wine editor Jon Bonné brings us the untold story of the innovative producers who are rewriting the rules of contemporary winemaking and transforming the California wine industry. Uncovering vintners' quest to express the uniqueness of California terroir and revealing the continuing battle to move the state away from the overly technocratic, reactionary practices of the recent past, Bonné takes us to the front lines of the California wine revolution. Join us as he shares the fascinating stories, philosophies and techniques of the iconoclastic young winemakers who are changing the face of California viticulture.
After the interview, enjoy wine tastings from several of California's top wineries (and Bay Area favorites!) featured in Jon's book, including Broc Cellars, Dashe Cellars, Donkey and Goat Winery and Waits-Mast Family Cellars.