Upcoming Events: East Bay
Wed 11/5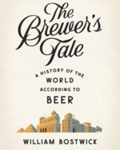 A History of the World According to Beer
Date:
Wed, November 05, 2014
Time:
6:30 PM
William Bostwick, Beer Critic, Author
View More
William Bostwick, Beer Critic; Author, The Brewer's Tale: A History of the World According to Beer
Ever wonder when the first beer was brewed? Or, better yet, how it tasted? In his latest book, The Brewer's Tale, home-brewer and beer critic William Bostwick uncovers the stories of brewers past – the unknown recipes, the odd ingredients, and the long-lost flavors – telling a history of the world through the eyes of brewers throughout the centuries. Join Bostwick as he celebrates the beers of ages past and raise a glass to the fermented magic we all know and love.
Following the interview, enjoy tastings provided by several of the best breweries in the Bay Area, including Black Diamond Brewing, Calicraft Brewing, Moonlight Brewing and SF Mead. Cheers!