Upcoming Events: Bay Gourmet
Mon 1/12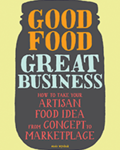 Good Food,Great Business: How Food Startups Take Good Ideas from Concept to Success
Date:
Mon, January 12, 2015
Time:
12:00 PM
Balance "good" with growth!
View More
Susie Wyshak, Author, Good Food, Great Businessss
Kathryn Lukas, CEO, Farmhouse Culture
Lisa Murphy, Co-founder and Chief Sauce Maker, Sosu Sauces
Jill Litwin, Founder and CEO, Peas of Mind
Grace Erickson, General Manager, Ocho Candy
Elizabeth Ü, Author, Raising Dough: The Complete Guide to Financing a Socially Responsible Food Business
Ready to turn your creative expertise with artisan foods into a thriving good food business? Join Susie Wyshak and a panel of smart, innovative women entrepreneurs who have done just that. Learn how these foodie forerunners put their ideas in motion, funded their ventures, kept going through the inevitable peaks and valleys of running a business – and how they continue to balance "good" with growth.