Upcoming Events: Bay Gourmet
Tue 3/3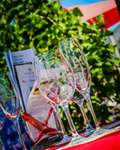 A Sense-ational Wine Experience
Date:
Tue, March 03, 2015
Time:
6:00 PM
With culinary specialist Annette McDonnell
View More
Annette McDonnell, Culinary Specialist; Tasting Room Manager, Paradise Ridge Winery
Indulge yourself in a sense-ational wine experience. Paradise Ridge Winery will be presenting its unique wine and herb tasting, a passionate collaboration between Paradise Ridge's culinary expert Annette McDonnell and Swede's Feeds Nursery in Kenwood. Using your senses, discover the remarkable flavors you find in wine using herbs you can grow in a garden or kitchen window.