Featured Program
Inforum
Join the world's changemakers, expand your thinking and discuss the most innovative ideas!
The Inforum division of the Commonwealth Club produces Bay Area events where you can meet celebrities in entertainment, tech, food, design, pop culture and politics. Our audience comprises the most interesting, inquisitive and connected young professionals. Your VIP access goes beyond the Q&As and book signings to include exclusive receptions, dinners, demonstrations, games and prizes for many events.
Supported by: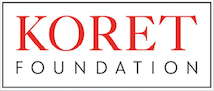 Find out more about Inforum here.