Upcoming Event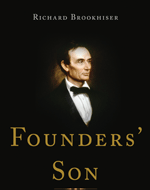 Tue, Nov 4 2014 - 12:00pm
Richard Brookhiser, Historian
Abraham Lincoln turned to Washington, Paine and Jefferson for knowledge, guidance, inspiration and purpose. He brought their vision to bear on the Civil War and the question of slavery. In Founders' Son, celebrated historian Richard Brookhiser presents Lincoln's life as a struggle to carry on the work of the Founding Fathers. From Lincoln's humble origins in Kentucky to his assassination in D.C., Brookhiser shows us every side of the man: laborer, lawyer, congressman, president; storyteller, wit, lover of ribald jokes; depressive, poet, friend and visionary.
MLF: Humanities
Location: SF Club Office
Time: 11:30 a.m. check-in, noon program, 1 p.m. book signing
Cost: $20 non-members, $8 members, $7 students (with valid ID)
Program Organizer: George Hammond
Also know: Good Lit event. In association with the Bernard Osher Foundation.
---
Founders' Son: A Life of Abraham Lincoln
Tue, Nov 4 2014 - 12:00pm