Upcoming Event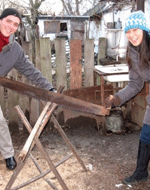 Wed, Oct 8 2014 - 6:00pm
Julia Lee, Returned Peace Corps Volunteer, Ukraine 2011-2013
Brooks Harrison, Returned Peace Corps Volunteer, Ukraine 2010-2012
David Masterson, Returned Peace Corps Volunteer, Ukraine 2005-2008
Morgan Roth, Returned Peace Corps Volunteer, Ukraine 2011-2013
Kayla Trunecek, Returned Peace Corps Volunteer, Ukraine 2013-2014
Five recently returned Peace Corps volunteers who served in diverse regions around Ukraine discuss the lives they shared with the people in their communities. In big cities and small towns, east and west, the daily interactions of these volunteers put a human face on the peoples, young and old, living in a country facing an uncertain future.
MLF: International Relations
Location: SF Club Office
Time: 5:30 p.m. networking reception, 6 p.m. program.
Cost: $20 non-members, $12 members, $7 students (with valid ID)
Program Organizer: Will Spargur
Also know: This program is in association with NorCal Peace Corps Association. Photo by Jing Li.
---
Peace Corps in Ukraine
Wed, Oct 8 2014 - 6:00pm