Upcoming Event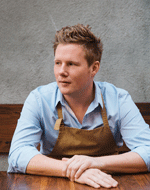 Mon, Oct 6 2014 - 6:30pm
Thomas McNaughton, Chef and Partner, flour + water, central kitchen and salumeria; Author, flour + water: pasta
In conversation with Adam Savage, Host, "Mythbusters"
All tickets include a pre-program cocktail reception with our speakers, courtesy of the Sonoma County Distilling Company
In 2009, Chef Thomas McNaughton started his San Francisco solo career with only a $500 stove and a fairly traditional concept. Just five short years later, flour + water has a cult-like local following and an award-driven national reputation, and McNaughton is on every short list of rising star chefs to watch. With a passion for artisanship and community agriculture, his handmade pasta dishes and creative regional Italian combinations have blown away diners and critics, inspiring McNaughton to launch other successful eateries such as central kitchen and salumeria. Now his new book, flour + water: pasta, takes you behind the scenes of San Francisco's hottest Italian restaurant and shows all of you weekend warriors how to make the perfect bowl of pasta.
Location: Program: SF Club Office; Dinner: Flour + Water, 2401 Harrison St., SF
Time: 5:45 p.m. check-in and cocktail reception, 6:30 p.m. program, 7:30 p.m. book signing, 8:30 p.m. dinner
Also know: Part of the Food Lit series. Underwritten by the Bernard Osher Foundation and by Wells Fargo and Co.

---
Flour + Water's Chef Thomas McNaughton in Conversation with Adam Savage
Mon, Oct 6 2014 - 6:30pm