Past Event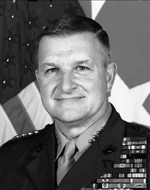 Thu, Sep 18 2014 - 6:30pm
General Anthony Zinni, USMC (ret.); Special Envoy to the Middle East (ret.); Author, Before the First Shots Are Fired: How America Can Win or Lose off the Battlefield
In conversation with Michael Nacht, Ph.D., Professor and former Dean, Goldman School of Public Policy, U.C. Berkeley; Former Assistant Secretary of Defense for Global Strategic Affairs, Obama Administration

The question of whether the U.S. should act as the world's police force has been disputed for decades – should the U.S. respond to issues abroad with military force? Retired four-star General Tony Zinni examines this question and breaks down the process of how the U.S. decides to go to war in his latest book. Drawing on his extensive military career spanning several decades, General Zinni analyzes America's history of military action, the role of government in the military process and the necessary shifts in order to make the decision to go to war a more transparent process.