Upcoming Event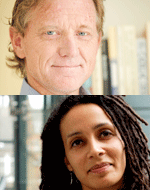 Wed, Sep 10 2014 - 7:00pm
James Redford, Screenwriter, Producer, Director; Co-founder and Chairman, The Redford Center
Tabitha Jackson, Director, Documentary Film Program, Sundance Institute
Documentary films are powerful tools for understanding social issues and encouraging activism. The topics of James Redford's films have ranged from dyslexia to organ donation and have provided meaningful insight into these tough subjects. At the Sundance Institute, Tabitha Jackson is at the forefront of promoting documentary films. Join these two gifted artists and social change champions as they discuss the power of film in catalyzing a better world.
James Redford co-founded and chairs The Redford Center, a non-profit production company committed to documenting stories of environmental and social issues. His numerous HBO documentary films include Toxic Hot Seat, which explores the dangers of chemical flame-retardants on furniture; The Big Picture, which examines the challenges – and gifts – of dyslexia; Mann V. Ford, which brings attention to the poisoning of a Native American community; and The Kindness of Strangers which celebrates the miracle of organ donation, which he credits with saving his own life twice.
Tabitha Jackson serves as the director of the Documentary Film Program at the Sundance Institute. The program supports filmmakers in producing cinematic documentaries that address contemporary social issues and engage in compelling story telling. Tabitha served as commissioning editor for the Arts at Channel 4 in the UK. She has made numerous films in both the U.S. and UK about identity, history and social justice. She received the News and Documentary Emmy, the Royal Television Society Award and the UNESCO Gold Award.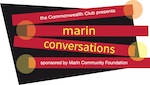 MLF: The Arts
Location: The Outdoor Art Club, One West Blithedale Avenue, Mill Valley
Time: 7 p.m. networking reception, 7:45 p.m. program
Cost: $45 non-members, $35 members
Also know: Presented by The Commonwealth Club and Marin Community Foundation, Marin Conversations is a monthly dialogue between Marin personalities and subject matter experts on important social issues. Marin Conversations take place the first Wednesday of the month at the historic Outdoor Art Club in downtown Mill Valley. Attendees are welcome to a 10 percent discount at Piazza D'Angelo the evening of the program.
---
Effecting Social Change with Documentary Filmmaking: Marin Conversations with James Redford and Tabitha Jackson
Wed, Sep 10 2014 - 7:00pm