Upcoming Event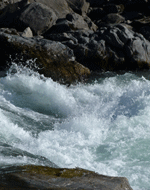 Wed, Aug 13 2014 - 6:00pm
Debbie Davis, Community & Rural Affairs Advisor, Office of Planning and Research, State of California
Felicia Marcus, Chair, State Water Resources Control Board
Barton Thompson, Jr., Professor of Natural Resources Law, Stanford Law School
The historic drought is driving farmers and communities to suck more water out of the ground. That can lead to salt water leaking into aquifers and the creation of sinkholes. California manages and monitors its groundwater much more loosely than other Western states. The new fracking law and other measures are gradually changing that, but the Golden State still needs to improve how it handles a precious economic resource. Will the drought finally drive California to improve the way it uses the water under our feet? Join us for an update on keeping the water flowing in dry times.
Climate One Connect
Audience members are invited to engage in breakout group conversations led by speakers for 20 minutes following the program. We hope you'll take part in this unique opportunity to delve deeper into today's water concerns.
Location: SF Club Office
Time: 5:30 p.m. check-in, 6 p.m. program, 7 p.m. networking reception
Cost: $20 non-members, $12 members, $7 students (with valid ID)
Also know: The speakers and audience will be videotaped for future broadcast on the Climate One TV show on KRCB TV 22 on Comcast and DirecTV. This program is generously underwritten by the S.D. Bechtel, Jr. Foundation.
---
Water Underfoot
Wed, Aug 13 2014 - 6:00pm