Upcoming Event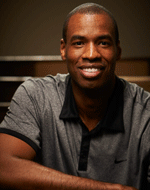 Mon, Aug 11 2014 - 6:30pm
Jason Collins, Professional NBA player
In Conversation with Jose Antonio Vargas, Director, Producer, Actor, Documented; Founder, Define American
The pro's pro. The ultimate teammate. The consummate professional. These are terms that have defined 35-year-old NBA player Jason Collins throughout his 14-year career. In April 2013, Collins came out as gay, becoming the first publicly gay athlete to play in any of the four major American pro sports leagues. Since coming out, Collins has been prominently featured in the public spotlight and has had to endure both the best and the worst of the sports world. Join us at the Castro Theatre to hear the unique and courageous story of the man who made it okay to be gay in sports.
Location: Castro Theatre, 429 Castro Street, San Francisco
Time: 5:45 p.m. check-in and premium reception, 6:30 p.m. program
Also know: This program is part of the 2014 Platforum series The LGBT Journey, sponsored by Ernst & Young.
---
The NBA's Jason Collins: First Out Athlete in Major American Pro Sports
Mon, Aug 11 2014 - 6:30pm