Upcoming Event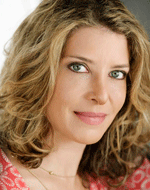 Thu, Aug 7 2014 - 6:00pm
Nina Teicholz, Author, The Big Fat Surprise: Why Butter, Meat and Cheese Belong in a Healthy Diet
Ronald M. Krauss, M.D., Senior Scientist and Director, Atherosclerosis Research, Children's Hospital Oakland Research Institute; Adjunct Professor, Department of Medicine, UCSF and Department of Nutritional Sciences, U.C. Berkeley - Moderator
Investigative journalist Nina Teicholz spent nine years deeply researching the effect that fats have on our bodies. She found the unthinkable: everything we thought we knew about dietary fats is wrong. For decades, we have been told that the best possible diet involves cutting back on fat, especially saturated fat, and that if we are not getting healthier or thinner it must be because we are not trying hard enough. What if those exact foods we've been denying ourselves — the creamy cheeses, the sizzling steaks — are themselves the key to reversing the epidemics of obesity, diabetes, and heart disease? Teicholz will discuss how the misinformation about saturated fats took hold in the scientific community as well as the public imagination, and how recent findings dispute those beliefs. Come ask your questions about this startling new report.
Nina Teicholz was a regular contributor to Gourmet magazine and has written on food for New York Magazine and Time Out New York. She has also contributed, on a variety of topics, to The New Yorker, The Economist, The Washington Post, The New York Times and Salon, among other publications. She was an on-air reporter for NPR for five years and was the associate director for the Center for Globalization and Sustainable Development at Columbia University, a think tank directed by the economist Jeff Sachs.
Location: SF Club Office
Time: 5:30 check-in, 6 p.m. program, 7 p.m. book signing
Cost: $20 non-members, $12 members, $7 students (with valid ID)
---
Nina Teicholz: The Big Fat Surprise – Are Butter, Meat and Cheese Healthy?
Thu, Aug 7 2014 - 6:00pm