Upcoming Event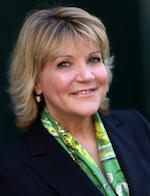 Mon, Jun 23 2014 - 5:15pm
Kit Yarrow, Ph.D., Consumer Psychologist; Chair of Psychology Department and Professor of Psychology and Marketing, Golden Gate University; Author, Decoding the New Consumer Mind
Yarrow notes that a decade of swift and stunning change has profoundly affected our psychology and consequently how, when and why we shop and buy. She illuminates the impact of three major socio-cultural shifts on the psychology of shoppers and describes four strategic shifts that businesses need to make to succeed and connect with today's transformed consumer. Drawing on hundreds of ethnographies and interviews, Yarrow shares surprising insights on the motivations and behaviors of today's shoppers and takes marketers where they need to be today – into the deeply psychological and often unconscious relationships that people have with products, retailers, marketing communications and brands.
MLF: Psychology
Location: SF Club Office
Time: 4:45 p.m. networking reception, 5:15 p.m. program
Cost: $20 non-members, MEMBERS FREE, $7 students (with valid ID)
Program Organizer: Patrick O'Reilly, Ph.D.
---
Decoding the New Consumer Mind: How and Why We Shop and Buy
Mon, Jun 23 2014 - 5:15pm