Past Event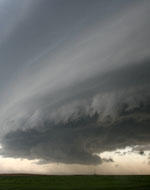 Tue, Jun 3 2014 - 6:00pm
Stormy Science
6:00-6:30 p.m.
Stephen Bennett, Senior Vice President, Verisk Climate
Noah Diffenbaugh, Associate Professor, School of Earth Sciences, Stanford University
Rebecca Shaw, Associate Vice President and Lead Scientist, Environmental Defense Fund
How much of the wild weather we have been experiencing in the Bay Area and watching on TV is related to climate change? The recent IPCC report raised scientists confidence that burning fossil fuels is behind much of the climate disruption humans have experienced and measured. But connecting individual weather events to our tailpipes and smokestacks is still controversial among scientists.
Recent episodes of severe weather - the polar vortex, Superstorm Sandy, the California drought, and epic floods - is consistent with established scientific understanding of how a disturbed climate behaves. What can we expect in the future? What are communities doing to prepare and become more resilient?

Rocky Investments
6:30-7:00 p.m.
Andrew Behar, CEO, As You Sow
Lisa Goldberg, Director of Research, Aperio Group; former Director of Research, MSCI
Josh Schein, Senior Portfolio Manager, Morgan Stanley
As scientific certainty about climate disruption rises, business risk is also rising. Federal regulators and shareholders are pressing companies to measure and disclose risk to their operations and profits. Advocates are pressing universities and foundations to divest from coal, oil and other fossil fuel companies. But will that really make any difference? Will investors suffer inferior returns if they divest from dirty energy? Investment giant Black Rock and NRDC recently formed a fossil-free index with the Financial Times. Does that suggest fossil-free investments are gaining credibility on Wall Street?
Some proponents of stakeholder engagement contend that divesting actually gives people less leverage. A conversation about business risk and how companies and investors are preparing for an economy lashed by wild weather.