Upcoming Event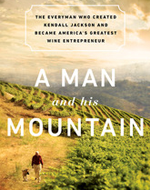 Mon, Apr 21 2014 - 6:00pm
Edward Humes, Winner, Pulitzer Prize; Author, A Man and His Mountain: The Everyman who Created Kendall-Jackson and Became America's Greatest Wine Entrepreneur
In conversation with Barbara R. Banke, Chairwoman, Jackson Family Wines; Widow of Jess Jackson
Jess Stonestreet Jackson was a self-made billionaire who built the Kendall-Jackson empire into a best-selling brand of super premium wines in the U.S. - all after the age of 50. Jackson Family Wines is one of the last remaining family-owned winery groups and owns and operates more than 35 individual wineries in California and around the world. Pulitzer Prize-winning author Edward Humes and Jess's widow and Kendall-Jackson Chairwoman Barbara Banke will tell the story of this amazing man and his influence on the California wine industry. A wine tasting will follow the conversation.
MLF: Bay Gourmet
Location: SF Club Office
Time: 5:30 p.m. networking reception, 6 p.m. program, 7 p.m. book signing
Cost: $20 non-members, MEMBERS FREE, $7 students (with valid ID)
Program Organizer: Cathy Curtis
---
A Man and His Mountain
Mon, Apr 21 2014 - 6:00pm
Note:
To receive a member discount, make your ticket selection above and click "Order Now."
At the bottom of the next page, enter your member ID number in the field at the bottom of the page. (Your member ID number can be found on your Club membership card.)
Family and Leadership Circle members are entitled to 2 member-priced tickets.
All other members are entitled to 1 member-priced ticket.
All ticket sales are final.