Upcoming Event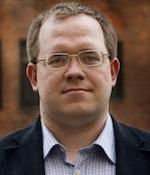 Thu, Apr 10 2014 - 7:00pm
Evgeny Morozov, Contributing Editor, The New Republic; Twitter: @evgenymorozov
New Republic Contributing Editor Morozov has been described as one of the "most prominent, most multiplatformed critic[s] of the utopian promises coming from Silicon Valley." He will discuss changes in privacy, democracy and the future of information and technology policy.

Also know: In association with the Markkula Center for Applied Ethics
Location: Arts & Sciences Building, Santa Clara University, 500 El Camino Real, Santa Clara
Time: 7 p.m. program
Cost: FREE
---
Evgeny Morozov
Thu, Apr 10 2014 - 7:00pm
Note:
To receive a member discount, make your ticket selection above and click "Order Now."
At the bottom of the next page, enter your member ID number in the field at the bottom of the page. (Your member ID number can be found on your Club membership card.)
Family and Leadership Circle members are entitled to 2 member-priced tickets.
All other members are entitled to 1 member-priced ticket.
All ticket sales are final.