Upcoming Event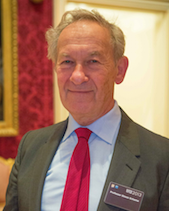 Wed, Mar 19 2014 - 12:00pm
Simon Schama, CBE, Professor of Art and Art History, Columbia University; Author, The Power of Art, Landscape and Memory and The Story of the Jews
Jonathan Curiel, Journalist, Reuters Foundation Research Fellow, Oxford – Moderator
The Commonwealth Club's Middle East Forum presents a special event with Professor Schama, renowned scholar, noted author, and PBS and BBC writer and presenter. Professor Schama will discuss his latest book, The Story of the Jews: Finding the Words, 1000 BCE to 1492 CE, which has been described as a magnificently illustrated cultural history. The book is a tie in to the PBS/BBC series, "The Story of the Jews." Professor Schama will be signing copies of his book following the presentation.
MLF: Middle East
Location: SF Club Office
Time: 11:30 a.m. check-in, noon program
Cost: $20 non-members, MEMBERS FREE
Program Organizer: Celia Menczel
Also know: Photo courtesy Financial Times
---
Simon Schama: Story of the Jews – Finding the Words
Wed, Mar 19 2014 - 12:00pm
Note:
To receive a member discount, make your ticket selection above and click "Order Now."
At the bottom of the next page, enter your member ID number in the field at the bottom of the page. (Your member ID number can be found on your Club membership card.)
Family and Leadership Circle members are entitled to 2 member-priced tickets.
All other members are entitled to 1 member-priced ticket.
All ticket sales are final.