Upcoming Event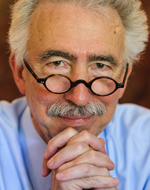 Wed, Mar 12 2014 - 6:00pm
Nicholas Dirks, Ph.D., Chancellor, UC Berkeley
What role should a public university play in 2014? Chancellor Dirks says that although the recent national discussion and concern about tuition costs is understandable, the commutation of education into lifetime earnings is a major threat not only to the significance of self-cultivation and understanding but also to the benefits of an undergraduate experience of the liberal arts and sciences. He believes the future of the public sphere, of civil society and of democracy itself is at serious risk as students retreat from subjects that cannot be directly tied to vocational aspirations. He argues that we need to continue to be inspired by the utopian goals of those who founded, supported, and led our public universities and to fully embrace their moral and intellectual ambitions in a collective undertaking that is more urgent than ever.
Location: SF Club Office
Time: 5:30 p.m. check-in, 6 p.m. program
Cost: $20 non-members, $12 members, $7 students (with valid ID)
Also know: Part of The Commonwealth Club's Series on Ethics and Accountability, underwritten by the Charles Travers Family
---
U.C. Berkeley Chancellor Nicholas Dirks: The Utopian Past and Future of the Public University
Wed, Mar 12 2014 - 6:00pm
Note:
To receive a member discount, make your ticket selection above and click "Order Now."
At the bottom of the next page, enter your member ID number in the field at the bottom of the page. (Your member ID number can be found on your Club membership card.)
Family and Leadership Circle members are entitled to 2 member-priced tickets.
All other members are entitled to 1 member-priced ticket.
All ticket sales are final.