Upcoming Event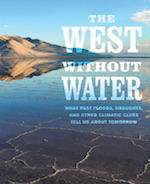 Tue, Mar 11 2014 - 6:30pm
B. Lynn Ingram, Professor of Earth & Planetary Science and Geography, UC Berkeley; Co-author, The West Without Water
Frances Malamud-Roam, Associate Environmental Planner and Biologist, Caltrans; Visiting Scholar, UC Berkeley; Co-author, The West Without Water
In conversation with Lisa Krieger, Science and Medical Research Reporter, San Jose Mercury News
In 2013, California suffered its driest calendar year on record. Wildfires raged across the state – from the massive Rim Fire in Yosemite to the flames that engulfed Big Sur – and Governor Brown has since declared a drought state of emergency as the unprecedented dry spell has stretched into 2014. UC Berkeley paleoclimatologist B. Lynn Ingram, co-author of The West Without Water, believes this could potentially be the driest water year we've had in 500 years. Join Ingram and co-author Frances Malamud-Roam for a discussion on California's current water crisis, the region's climatic past and predictions about the future of climate change and its effect on water resources.
Location: Lafayette Library, 3491 Mt. Diablo Blvd., Lafayette
Time: 6 p.m. check-in, 6:30 p.m. program
---
The West Without Water
Tue, Mar 11 2014 - 6:30pm
Note:
To receive a member discount, make your ticket selection above and click "Order Now."
At the bottom of the next page, enter your member ID number in the field at the bottom of the page. (Your member ID number can be found on your Club membership card.)
Family and Leadership Circle members are entitled to 2 member-priced tickets.
All other members are entitled to 1 member-priced ticket.
All ticket sales are final.