Upcoming Event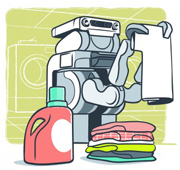 Mon, Mar 10 2014 - 6:00pm
Melonee Wise, Co-founder and CEO, Unbounded Robotics
Joe Augenbraun, Founder, Neato Robotics
Pieter Abbeel, Assistant Professor, Department of Electrical Engineering and Computer Sciences, UC Berkeley
Evan Ackerman, Senior Writer, IEEE Spectrum - Moderator
Even before Rosie made her debut on "The Jetsons" in 1962, consumers had been anxiously awaiting the arrival of their personal robot. Well, it's now more than 50 years later, and we have vacuum cleaners and thermostats. What's taking so long for general-use, multi-purpose robots to make it into the home? A panel of robot experts will discuss the challenges to date, the current state of personal robotics, and the social and economic implications of robots in the home.
MLF: Science & Technology
Location: SF Club Office
Time: 5:30 p.m. check-in, 6 p.m. program
Cost: $20 non-members, MEMBERS FREE, $7 students (with valid ID)
Program Organizers: Chisako Ress and Tim Smith
Also know: Part of the 21st Century Robotics Series. Image by Willow Garage.
---
Where's Rosie? The State of Personal Robotics
Mon, Mar 10 2014 - 6:00pm
Note:
To receive a member discount, make your ticket selection above and click "Order Now."
At the bottom of the next page, enter your member ID number in the field at the bottom of the page. (Your member ID number can be found on your Club membership card.)
Family and Leadership Circle members are entitled to 2 member-priced tickets.
All other members are entitled to 1 member-priced ticket.
All ticket sales are final.