Food for All? Marin Conversations with Whole Foods' Walter Robb and Sierra Orchards' Craig McNamara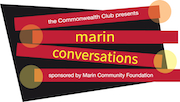 Broader access to fresh, healthy food and the role of the agricultural community in food supply chains have become important policy issues in the U.S. today. California's agricultural businesses and progressive companies like Whole Foods Market are working hard to find solutions to these concerns as well as dealing with other important issues at the intersection of food, agriculture and society. Please join Whole Foods Co-CEO Walter Robb and Sierra Orchards Founder Craig McNamara for Marin Conversations' discussion of these critical issues. 
Please join our monthly conversation between Marin personalities and subject matter experts on important social issues, presented by The Commonwealth Club and Marin Community Foundation. Marin Conversations take place on the first Wednesday of the month (except May 14, 2014) at the historic Outdoor Art Club, One West Blithedale Avenue (corner of Throckmorton) in downtown Mill Valley.
Light dinner fare and cash bar is available until 7:45 p.m. The program runs from 7:45–9 p.m. Attendees are also welcome to a 10 percent discount at Piazza D'Angelo on the evening of the program. Please email any questions to rcrowley@commonwealthclub.org.