Past Event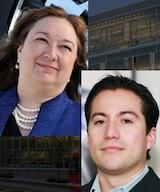 Fri, Feb 7 2014 - 12:00pm
Catherine Sandoval, Commissioner, California Public Utilities Commission
Orson Aguilar, Executive Director, The Greenlining Institute
Adrianna Quintero, Senior Attorney, Natural Resources Defense Council
Climate change affects everyone, but some communities suffer more than others. Nearly half of Latinos in the U.S. live in the country's most smog-polluted cities, breathing dirty air that can cause respiratory illnesses. Higher temperatures caused by global warming only make smog worse, and in California, many Mexican-Americans work outside in the hot Central Valley. For children and the elderly, these conditions can be deadly. While politicians argue over the legitimacy of scientists' predictions, the climate is emerging as a central issue for the Hispanic population.
Latinos are the fastest-growing electoral body in the country, and polls show they want clean energy, even if it comes with a higher price tag. Some groups are taking steps to get their voices heard. What does climate change mean to Latino communities? How will Hispanic voices impact energy politics in the 2014 elections and beyond?
Join us for a conversation about how carbon pollution affects Latinos and how they are engaging around it in an election year.