Upcoming Event
Scott Carroll: Conciliation Biology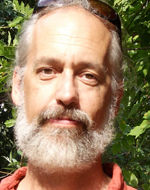 Thu, Jan 30 2014 - 6:00pm
An Approach to Conservation that Reconciles Past, Present and Future Landscapes in Nature
Scott Carroll, Ph.D., Founding Director, Institute for Contemporary Evolution and Department of Entomology, UC Davis
Biologists are now considering the "conciliatory approach." This approach recognizes that mutual adaptation of native and non-native species is changing best practices for promoting biodiversity. Dr. Carroll investigates how organisms respond to human-caused environmental change. Carroll advocates for interdisciplinary solutions to problems of environmental conservation.
This program is part of "The Science of Conservation and Biodiversity in the 21st Century." This series of lectures will present a new way of looking at public policy issues in conservation. The things we've assumed as facts often are not. Traditional approaches are losing ground as science illuminates new pathways for framing and achieving conservation goals.
MLF: SCIENCE & TECHNOLOGY
Location: SF Club Office
Time: 5:30 p.m. check-in, 6 p.m. program
Cost: $20 non-members, $8 members, $7 students (with valid ID)
Program Organizers: Chisako Ress and Dee Seligman
Also know: Part of the Science of Conservation and Biodiversity in the 21st Century series.
Note:
To receive a member discount, make your ticket selection above and click "Order Now."
At the bottom of the next page, enter your member ID number in the field at the bottom of the page. (Your member ID number can be found on your Club membership card.)
Family and Leadership Circle members are entitled to 2 member-priced tickets.
All other members are entitled to 1 member-priced ticket.
All ticket sales are final.