Upcoming Event
Richard Powers: Author of "The Echo Maker" and "Orfeo"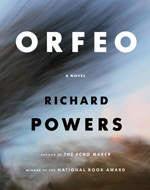 Mon, Jan 27 2014 - 6:00pm
Richard Powers, Professor, University of Illinois at Urbana-Champaign; Author, The Echo Maker and Orfeo
The National Book Award–winning author of The Echo Maker delivers his most emotionally charged novel to date, inspired by the myth of Orpheus. In Orfeo, composer Peter Els opens the door one evening to find the police on his doorstep. His home microbiology lab, the latest step in the lifelong journey to find music in natural patterns, has aroused the suspicions of Homeland Security. As an Internet-fueled hysteria erupts, the now fugitive Els – the "Bioterrorist Bach" – pays a final visit to the people he loves. Through the help of his ex-wife, his daughter, and his longtime collaborator, Els hatches a plan to turn this disastrous collision with the security state into a work of art that will reawaken its audience to the sounds all around them.
Location: SF Club Office
Time: 5:30 p.m. check-in, 6 p.m. program, 7 p.m. book signing
Cost: $20 non-members, MEMBERS FREE, $7 students (with valid ID)
Also know: Part of the Good Lit series, Underwritten by The Bernard Osher Foundation
Note:
To receive a member discount, make your ticket selection above and click "Order Now."
At the bottom of the next page, enter your member ID number in the field at the bottom of the page. (Your member ID number can be found on your Club membership card.)
Family and Leadership Circle members are entitled to 2 member-priced tickets.
All other members are entitled to 1 member-priced ticket.
All ticket sales are final.