Upcoming Event
Achieving Optimal Health While Living on a Toxic Planet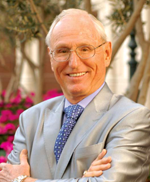 Thu, Jan 16 2014 - 12:00pm
Garry F. Gordon, MD, DO, MD(H); Co-author, Detox with Oral Chelation and The Omega 3 Miracle
Is anyone safe from environmental toxins and pollutants? Many people fear that our bodies are burdened with alarming levels of arsenic, lead, mercury and fluoride, organic pollutants like BPA, PBDE's, Teflon and dioxins and pesticides. Some experts contend that planetary changes and the gradual decline of our protective electromagnetic field has further weakened our cellular metabolic functions of energy production, nutrient assimilation and cell recycling and detoxification. Dr. Gordon will explain how you can improve your health with his F.I.G.H.T. For Your Health program, with advanced nutritional support, chelation and detoxification protocols, and will share the latest developments in "energy medicine" modalities, such as low-level laser therapy and pulsed electro-magnetic frequency.
MLF: Health & Medicine
Location: SF Club Office
Time: 11:30 a.m. check-in, noon program
Cost: $20 non-members, $8 members, $7 students (with valid ID)
Program Organizer: Adrea Brier
Note:
To receive a member discount, make your ticket selection above and click "Order Now."
At the bottom of the next page, enter your member ID number in the field at the bottom of the page. (Your member ID number can be found on your Club membership card.)
Family and Leadership Circle members are entitled to 2 member-priced tickets.
All other members are entitled to 1 member-priced ticket.
All ticket sales are final.