Upcoming Event
Dr. Ed Lu: Protecting Earth from Asteroids - Why We May Not See Them Coming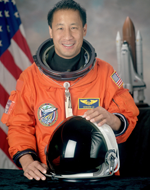 Tue, Jan 14 2014 - 6:00pm
Ed Lu, Ph.D., Former NASA Astronaut; CEO and Co-founder, B612 Foundation
In a recent "60 Minutes" interview, Lu pointed out that more than a million "near-Earth asteroids" are larger than the asteroid that struck Tunguska, Siberia, in 1908 – and about 1,000 times more powerful than the atomic bomb dropped on Hiroshima. The 1908 asteroid was only about 40 meters across, yet it destroyed an area roughly the size of the San Francisco Bay Area. Nature magazine has just reported that "the risk of similar objects hitting our planet may be ten times larger than previously thought. What can be done, if anything, to identify and combat threats? Dr. Lu flew three space missions, including six months on the International Space Station. He will discuss his mission to detect and track the million asteroids with the potential to destroy any major city on Earth and how his B612 Foundation plans to build, launch and operate a deep space telescope with an infrared lens – the first private-sector deep space mission in history.
Location: SF Club Office
Time: 5:30 p.m. check-in, 6 p.m. program
Cost: $20 non-members, $12 members, $7 students (with valid ID)
Also know: In association with the Club's Science & Technology Member-Led Forum
Note:
To receive a member discount, make your ticket selection above and click "Order Now."
At the bottom of the next page, enter your member ID number in the field at the bottom of the page. (Your member ID number can be found on your Club membership card.)
Family and Leadership Circle members are entitled to 2 member-priced tickets.
All other members are entitled to 1 member-priced ticket.
All ticket sales are final.