Upcoming Event
Christians and the Arab Spring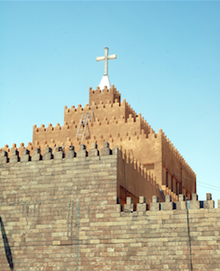 Fri, Dec 13 2013 - 12:00pm
Marianne Ibrahim, Coptic Christian; Egyptian Activist
Dina Ibrahim, Ph.D., Media Analyst; Educator
Father Ninos Oshaana, Orthodox Christian Priest
Marianne Ibrahim has worked tirelessly as an organizer, activist and journalist. She was awarded the 2012 Vital Voices Global Trailblazer award, which recognizes global women leaders. Marianne will discuss the plight of Christians in the Middle East and her work with human rights, social peace and interfaith dialogue organizations with Dr. Dina Ibrahim, media analyst and educator. Both were in Egypt for the Arab Spring upheavals. Father Ninos Oshaana has family roots in Iraq and brings the valuable perspective of an Eastern Orthodox Christian priest with an Assyrian background. Father Oshaana advocates for the religious and humanitarian rights of the Assyrians; the Aramaic-speaking, indigenous Christians of Iraq (also known as Chaldeans and Syriacs).
MLF: Middle East
Location: SF Club Office
Time: 11:30 a.m. check-in, noon program
Cost: $20 non-members, MEMBERS FREE, students free (with valid ID)
Program Organizer: Celia Menczel
Also know: This is the fifth program in the series about the Arab Spring. Photo by James Gordon.
Note:
To receive a member discount, make your ticket selection above and click "Order Now."
At the bottom of the next page, enter your member ID number in the field at the bottom of the page. (Your member ID number can be found on your Club membership card.)
Family and Leadership Circle members are entitled to 2 member-priced tickets.
All other members are entitled to 1 member-priced ticket.
All ticket sales are final.