Past Event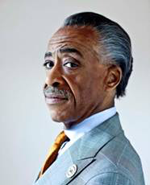 Sat, Dec 7 2013 - 2:00pm
This program is cancelled
Al Sharpton, Reverend; Host, MSNBC; Author, The Rejected Stone
In conversation with Davey D, Journalist and Host, Hard Knock Radio; Adjunct Professor, SFSU
Through decades of street activism and pulpit provocation, Reverend Al Sharpton has earned a reputation as a rabble rousing and outspoken civil rights leader. Through his personal and public ups and downs, he has cemented his role as a radical and often controversial political activist. In his first book in more than a decade, The Rejected Stone: Al Sharpton and the Path to American Leadership, Reverend Sharpton discusses his evolution from social revolutionary to the man he is today. Though as outspoken as ever about the issues that matter the most, he has arrived at some unexpected and somewhat surprising conclusions about immigration, gay rights and religion — to name a few hot topics. Reverend Al will discuss his life-changing journey and his promise that we can transform this nation if we're willing to transform our hearts and transform our minds.

Location: SF Club Office
Time: 1:30 p.m. check-in and premium reception, 2 p.m. program, 3 p.m. general reception and book signing
Cost: General admission: $20 non-members, $12 members, $7 students (with valid ID); Premium ticket (includes The Rejected Stone, reserved seating and premium reception with speakers. Limited to 65 guests): $55 non-members, $40 members.