Past Event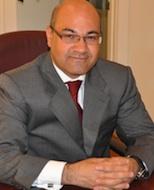 Tue, Aug 27 2013 - 12:00pm
Lukman Faily, Iraq's Ambassador to the United States
Robert Rosenthal, Executive Director, Center for Investigative Reporting - Moderator
Iraq's new ambassador to the United States, Lukman Faily, represents a rising generation of professionals, business leaders and civic activists who have returned home to build a free-market democracy in their native land. Faily brings extensive experience in diplomacy, business organization management, information technology and civic activism, as well as a familiarity with Anglo-American traditions and institutions, to his new role in Washington carrying out one of Iraq's most important diplomatic assignments. Faily holds a Bachelor of Science degree in mathematics and computer science from Manchester Metropolitan University in the UK. Fluent in English, Arabic and Kurdish, Ambassador Faily was born in Baghdad.
Location: SF Club Office
Time: 11:15am check in, noon program
Cost: $20 non-members, $12 members, $7 students (with valid ID)
Also know: Attendees subject to search. In association with the Club's Middle East Member-Led Forum.