Past Event
Food and Longevity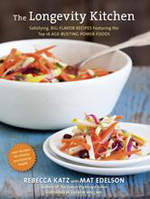 Mon, Aug 12 2013 - 6:00pm
This program is sold out. You may add your name to the waitlist.
Rebecca Katz, Chef; Educator; Author, The Longevity Kitchen and The Cancer Fighting Kitchen
Eric Gower, Chef; Writer, The Breakaway Cook
Have you been yearning for a new way to eat healthier and live longer? Look no further! In a collection of more than 100 recipes that utilize smart nutrition without sacrificing flavor, culinary nutrition expert Rebecca Katz highlights foods proven to fight the most common chronic conditions. In The Longevity Kitchen: Satisfying, Big-Flavor Recipes Featuring the Top 16 Age-Busting Power Foods, she draws on the latest scientific research to explain how foods such as asparagus, basil, coffee, dark chocolate, kale, olive oil, sweet potatoes and wild salmon can build immunity, lower cholesterol, enhance memory, strengthen the heart and reduce your chances of developing diabetes and other diseases. Katz is the founder and director of the Healing Kitchens Institute. She will be signing books after the program.
MLF: Bay Gourmet
Location: SF Club Office
Time: 5:30 p.m. networking reception, 6 p.m. program, 7 p.m. book signing
Cost: $20 non-members, MEMBERS FREE, $7 students (with valid ID)
Program Organizer: Cathy Curtis