Past Event
The Perfect Cup: Coffee Talk with San Francisco's Finest Roasters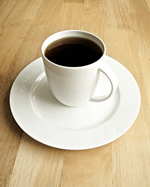 Tue, May 28 2013 - 6:00pm
James Freeman, Owner, Blue Bottle Coffee
Eileen Hassi, Owner, Ritual Coffee Roasters
Jeremy Tooker, Owner, Four Barrel Coffee
Marcia Gagliardi, Founder/Editor, Tablehopper.com - Moderator
This event is sold out. You can add yourself to the wait list below.
Three of San Francisco's finest coffee entrepreneurs spill the beans on what it takes to be at the forefront of an artisan coffee revolution. Join the owners of Blue Bottle, Four Barrel and Ritual Coffee Roasters as they discuss sourcing beans directly from farmers they know, roasting on the premises of their local establishments, and brewing the perfect cup of joe. Come early for a "cupping" and taste what Bay Area coffee innovation is all about.
Location: SF Club Office
Time: 5 p.m. check-in, 5:15 p.m. coffee tasting, 6 p.m. program
Cost: $25 non-members, $15 members, $10 students (with valid ID)
Also know: Sponsored by Wells Fargo. Photo courtesy of epSos.de.