Past Event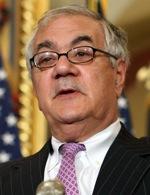 Mon, May 13 2013 - 6:00pm
Former Member of Congress (D-MA)
Scott Shafer, Host, "The California Report," KQED San Francisco - Moderator
First elected to Congress in 1980, Frank gained a reputation as a forceful legislator and a pragmatic politician whose intellect and sense of humor has made him one of the most influential and colorful figures in Washington. In 1987, Frank became the first member of Congress to voluntarily come out as openly gay, and in 2012 he married his longtime partner, becoming the nation's first congressman in a same-sex marriage while in office. Don't miss this chance to get up close and personal with the legendary legislator as he delves into his decades in political life, his ideas about current economic realities and his ambitions for the future.
Location: Fairmont Hotel, 950 Mason St. (at California)
Time: 5:15 p.m. check-in, 6 p.m. program
Cost: General admission: $25 non-members, $15 members. Premium (priority seating in the first few rows) $45 non-members, $30 members.