Past Event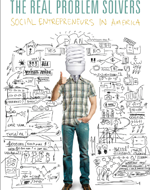 Tue, Dec 11 2012 - 6:00pm
Commonwealth Club Book Launch: The Real Problem Solvers
This event is sold out

Join us for our year-end members social and help us launch the latest Commonwealth Club book!
Recently, the Club presented an entire series on social entrepreneurship. Today, "social entrepreneurship" describes a host of new initiatives and approaches that break from traditional philanthropic behavior and are having a major impact on society. This compelling series has been published as a book, The Real Problem Solvers: Social Entrepreneurs in America, featuring leading entrepreneurs, funders, investors, thinkers, and champions talking from their own, first-person perspectives.

Join editor Dr. Ruth Shapiro and contributors Matt Bannick of the Omidyar Network, Kriss Deiglmeier of Stanford and Premal Shah of Kiva for the premiere of this important book that serves as the ideal introduction to the amazing potential of social entrepreneurship.
Come socialize with fellow Commonwealth Club members around wine and hors d'oeuvres both before and after this brief 30-minute program with the authors of the book.
Location: SF Club Office
Time: 5:15 p.m. check-in, 6-6:30 p.m. program with brief comments by panelists, 6:30-7:30 p.m. social with light hors d'ouevres and book sales and signing
Cost: $20 standard, FREE FOR MEMBERS, $7 students (with valid ID)