Past Event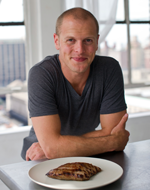 Wed, Nov 28 2012 - 6:30pm
Tim Ferriss: The 4-Hour Movement
This event is sold out. You may add your name to the waitlist here. Tickets are still available to see Ferris speak in Palo Alto on November 29. To purchase tickets for that event, please click here.
Investor and Entrepreneur; Author, The 4-Hour Chef, The 4-Hour Body, The 4-Hour Workweek
Ferriss has changed lives (in 4-hour increments) twice now. The author of New York Times best-sellers The 4-Hour Workweek and The 4-Hour Body, Ferriss is on a one-man mission to make you more effective in everything you do – whether it's in the office, the gym or even the kitchen. Now, in The 4-Hour Chef, he dishes up the radically counterintuitive advice that his devotees have come to expect, via culinary pointers from world-renowned chefs and insider tips from chefs who get paid to make you dinner. Join us as this jack of all trades schools us in the ways of chefdom and living life like a pro.
Location: SF Club Office
Time: 5:30 p.m. check-in, 6:30 p.m. program, 7:30 p.m. reception and book signing
Cost: Regular: $20 standard, $12 members. Premium (includes book, reserved seating and premium reception. Limited to 40 guests): $50 standard, $35 members
Also know: Ferriss will also be speaking in Palo Alto on 11/29. Photo by Daniel Krieger Photography.