Past Event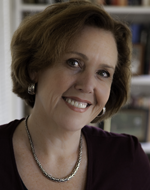 Mon, Sep 24 2012 - 6:00pm
Joan Walsh: What's the Matter with White People?
Joan Walsh, Editor at Large, Salon; Contributor, MSNBC; Author, What's the Matter with White People? Why We Long for a Golden Age That Never Was
Doug Sovern, Political Reporter, KCBS Radio - Moderator
On the eve of the crucial 2012 election, Walsh addresses a demographic and political puzzle: President Obama leads a coalition of African Americans and other minorities, plus women, younger voters and college-educated whites. Mitt Romney's GOP gets an overwhelming majority of its support from white voters, particularly an unlikely coalition of wealthy and working class men. Walsh examines what this means for the GOP, the country and American race relations.
Location: SF Club Office
Time: 5:30 p.m. networking, 6 p.m. program, 7 p.m. book signing
Cost: $20 standard, MEMBERS FREE, $7 students (with valid ID)