Past Event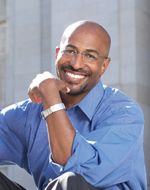 Tue, Apr 17 2012 - 6:30pm
Van Jones, Founding President, Rebuild the Dream; Author, Rebuild the Dream
This event is sold out. There is a waitlist at the bottom of this ad.

In Conversation with Caroline Moriarity Sacks, Director, INFORUM
Van Jones, one of the nation's leading champions for ecological equality, is switching gears. A cofounder of three non-profits and a former advisor to President Obama, Jones is now working to build a movement grounded in tough-minded American idealism to "take back the American Dream." Rejecting the fashionable mantra of cut-backs and austerity, Jones makes the case for public policies and investments, hoping to create 10 million, well-paying American jobs. Learn more about Jones' new book Rebuild the Dream and get a glimpse of how his plot for change has thickened since last summer's interview here at the Club.

Location: SF Club Office
Time: 6 p.m. check in, 6:30 p.m. program, 7:30 p.m. book signing
Cost: $20 standard, $12 members, $7 students (with valid ID)
Also know: If you would like to see Van Jones in Silicon Valley, please view our 4/16 SV event listing HERE.