Past Event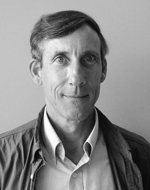 Thu, Mar 8 2012 - 6:00pm
George Dyson: Turing's Cathedral, The Origins of the Digital Universe
Science Historian; Author, Turing's Cathedral, Baidarka and Project Orion
Katie Hafner, Journalist; Author - Moderator
Want to learn where the digital universe as we know it was born? Dyson sheds new light on the group of scientists and their government-funded lab at the Institute for Advanced Study in Princeton that started it all. In the 1940s and '50s, a group of eccentric geniuses led by John von Neumann gathered for a joint project to create the theoretical universal machine, an idea that had been put forth by mathematician Alan Turing. The computer that they built not only led directly to the hydrogen bomb, but also the 20th-century technology that came to be the digital universe we know today.
MLF: Science & Technology
Location: SF Club Office
Time: 5:30 p.m. networking reception, 6 p.m. program, 7 p.m. book signing
Cost: $20 standard, $8 members, $7 students (with valid ID)
Program Organizer: Chisako Ress
Also know: In association with the Mechanics Institute.