Past Event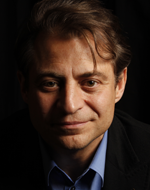 Tue, Mar 6 2012 - 7:00pm
Peter Diamandis: The Future is Better than You Think
Ph.D., Chairman and CEO, X Prize Foundation; Co-author,
Abundance: The Future Is Better than You Think


Peter Diamandis has played a cardinal role in the research and development of industrial innovation for over 30 years. Working in the realms of commercial space exploration, molecular genetics, entrepreneurship and philanthropy, Diamandis works to leverage recent and current advances in technology toward effective, dramatic and exhaustive improvements in these domains. In 1996 he founded the X Prize Foundation, which stages incentivized prize competitions to facilitate collaboration across national and corporate boundaries. A firm optimist, Diamandis seeks to convince the readers of his forthcoming book of the ever-increasing opportunities available to global societies. He will appear in Palo Alto to speak about his life's work and to discuss the work of other groundbreakers currently at the helm of innovations in water, food, energy, health, education and communication.
Location:
Schultz Cultural Hall, Oshman Family JCC; 3921 Fabian Way, Palo Alto
Time:
6:30 p.m. check-in, 7 p.m. program, 8 p.m. book signing
Cost:
$20 standard, $12 members, $7 students (with valid ID)
Also know:
In association with the Oshman Family JCC