Past Event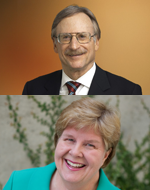 Fri, Jan 20 2012 - 11:45am
Michael Boskin and Christina Romer: Bank of America/ Walter E. Hoadley Annual Economic Forecast
Tickets No Longer Available. You can view live video of the program; for information, visit our video partners at Fora.
Dr. Michael Boskin, Professor of Economics and Senior Fellow, Hoover Institution, Stanford University; Chair, President's Council of Economic Advisers under President George H.W. Bush.
Dr. Christina Romer, Professor of Economics, University of California, Berkeley; Immediate Past Chair, President Obama's Council of Economic Advisers
Mary Cranston, Senior Partner, Pillsbury Winthrop Shaw Pittman; Past Chair, Commonwealth Club Board of Governors (Moderator)
As our struggling economy and nation limp into a critical election year, don't miss this chance to hear a lively discussion with two former top presidential economic advisors on where the U.S. and global economies are headed in 2012 and what should be done to put them on track. From January 2009 until September 2010, Romer served as chair of President Obama's Council of Economic Advisers. She is a specialist in economic history and macroeconomics and is best known for her work on the causes of and the recovery from the Great Depression, and on the impact of monetary and fiscal policy. Boskin is the Tully M. Friedman Professor of Economics and a senior fellow at the Hoover Institution at Stanford; he is also a research associate at the National Bureau of Economic Research.
MEMBERS-ONLY+1 paying guest
Location: Grand Ballroom, Fairmont Hotel, 950 Mason St. (at California)
Time: 11:45 a.m. luncheon, 12:30 p.m. program
Cost: Regular: $85 standard, $65 members. Table pricing: Before Dec. 31, 2011: $800 members; $1,100 standard; $2,500 patrons. After Dec. 31, 2011: $960 members; $1,320 standard; $3,000 patrons. To purchase tables, please contact Mary Beth Cerjan in the Club's Development Department at (415) 869-5919.
Also know: Underwritten by Bank of America. Must register by noon on January 18