Past Event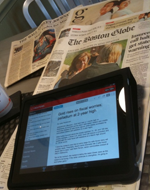 Thu, Oct 20 2011 - 6:00pm
Do or Die: Can Traditional Media and New Media Both Survive?
This program is postponed. Check back for a new date.
Sponsored by Wells Fargo
Phil Bronstein, Editor-at-Large, Hearst Newspapers
John Boland, President and CEO, KQED
Lisa Frazier, President and CEO, Bay Citizen
Chris Taylor, San Francisco Bureau Chief, Mashable; Former San Francisco Bureau Chief, Time Magazine
Jim Bettinger, Director, Knight Fellowships for Professional Journalists, Stanford University - Moderator
The Bay Area is ground zero for a revolution in media, with new and traditional media battling each other, collaborating and evolving new forms of news and information delivery. Come hear an all-star cast of media leaders tell you how you'll be consuming their services in the near future, why the changes are taking place, and why it matters to you and to the Bay Area at large. Don't miss this exclusive discussion about who will survive the media revolution.
Location: SF Club Office
Time: 5:30 p.m. networking reception, 6 p.m. program
Cost: $20 standard, $12 members, students free (with valid ID)
Also know: Photo by stevegarfield/Flickr