Past Event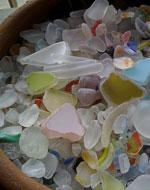 Wed, Oct 12 2011 - 9:00am
Rethinking Waste in the Bay Area
This program is cancelled
One person's garbage is another one's gold. Experience how waste is transformed into valuable products through creative re-use and recycling methods on this full day tour. Meet the leaders who are responsible for keeping tons of reusable materials out of landfills. We'll visit transfer stations: Urban Ore, Omega Salvage and other innovative models of sustainability. Join the tour in SF or in Berkeley. 

Location: Meet at SF Ferry Building's Northwest exit.
Time: Arrive by 8:30 a.m. Bus departs at 9 a.m. Staff has signs for BAGT (Bay Area Green Tours). OR meet in Berkeley at David Brower Center, 2150 Allston Way, 9:30 a.m. End approx. 4:30 p.m. in Berkeley and return 5 p.m. in SF.
Cost: $120 standard, $120 members. Includes bus transportation and a box lunch 

Also know: Must pre-register. Photo by Bay Area Green Tours/Flickr.